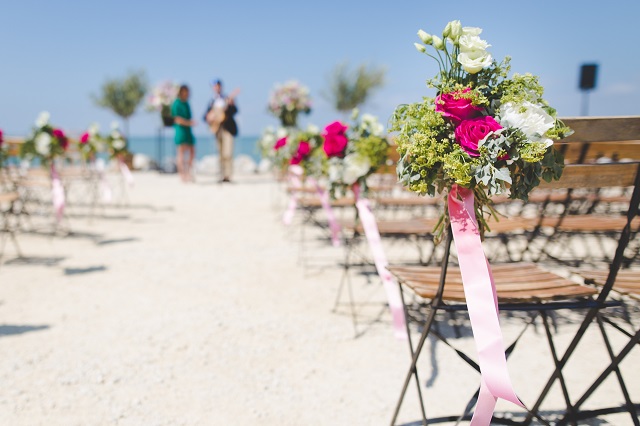 There's no question about it: Summer weddings are popular. People like the idea of walking down the aisle in warm and sunny weather. Who wouldn't?
The downside, though, is that outdoor summer weddings can be hot. Brides and grooms want the balmy climes for their ceremony, but not so much that guests are uncomfortable. Need help thinking of ways to enjoy all the plusses and none of the summer heat minuses? We've got three great ways!
Shade is Your Friend
On a hot day, simply being in the shade can feel 15 degrees cooler. The ceremony will probably be short enough to need no special accommodation. But make sure any outdoor cocktail hours or reception areas have ample shade. If you're on a budget, think naturally-occuring shade, open-air roofs or strageically-placed umbrellas. In the case of umbrellas, you have an opportunity to incorporate your theme. Tenting and portable air conditioning are a little more expensive but can be worth it if the heat is significant.
Your Biggest Fans!
Handheld fans are a tasteful and elegant choice for favors. And for a summer wedding, they also serves the practical purpose of helping your guests stay cool. You may even want to have two sets: a fan with your ceremony program printed onto it for guests to use at your actual nuptials and a more ornamental (but still functional!) version as a place setting for the reception.
Stay Hydrated
Sitting outside in an afternoon of summer heat isn't the best recipe for staying cool and comfortable. To combat the heat of the day, make sure each reception table has glasses of ice water and even a pitcher or two for refills. A cute favor or table decoration is a small spritzer bottle at each place setting. A spray of cool mist will go a long way to keeping guests hydrated and happy.
Stay cool, and enjoy your big day!