There are tons of checklist resources out there (like this wedding planning checklist from WeddingWire) to help brides with a timeline of booking their venue, photographer, caterer and all other important vendors.
All these timelines are important and incredibly helpful, but they forget to tell you all the things you need to have in order before you can even get started on this checklist. To help out all the future brides just getting started on wedding planning, we put together the checklist before the checklist.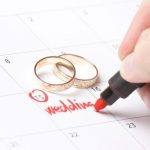 Set your budget.

This is one of the most important things to do when you start planning your wedding. Before you can book any vendors, you need to know how much you can spend. Setting your budget will help you have an idea of what to price point to look for when comparing vendors.

Pick your season. What time of year have you always dreamed of getting married? Do you picture a winter wedding with beautiful deep red roses and cozy fires, or a bright spring wedding outside? You will need a few dates within your ideal wedding season that before you check for availability of venues.
Know your guest count.

Guest count is one thing that can influence your budget greatly. If you want a smaller wedding, you might be able to spend more on catering or flowers. If you want a bigger wedding, you will need to make sure venues will be able to accommodate the number of people attending.

Define a theme. The theme of your wedding will impact almost every decision you make in your wedding planning. Start scouring pinterest for different wedding themes to see what kind of environment you want to create for your guests.