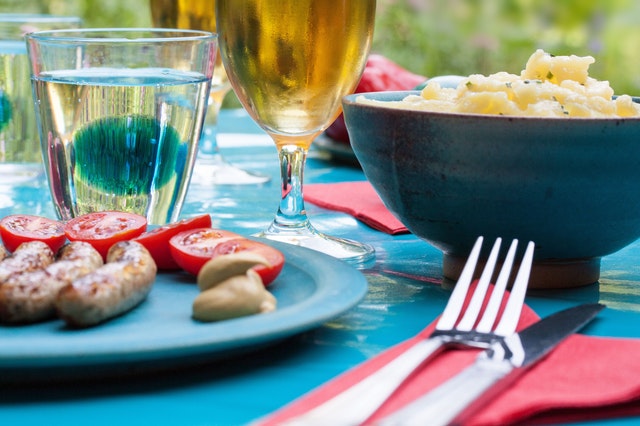 Whether you're doing barbecues, beach parties, 4th of July or just getting together to enjoy the warm weather, summertime is when we want to be outdoors. Summer get-togethers can get lively and even raucous, but that doesn't mean your event can't be stylish. Keep your summer festivities classy with a little help from us!
Decorate the Outdoors
Even the great outdoors, in all its natural splendor, can use the helping hand of someone with a deft decorative touch. Don't be afraid to adorn picnic tables or outdoor seating areas with tasteful tablecloths, centerpieces or any of the other flourishes you use inside. What's stopping you from bringing the indoors out?
If anything, there's more opportunity to embellish when you're outside. You're not hemmed in by space limitations or the need to match existing décor. Nature is wild, so run wild with it!
Make it Sparkle!
You're probably all sparklered out after yesterday's Independence Day celebration, but you don't have to stop lighting up the evening hours just because July 4th is over. Embrace the trend! Wedding sparklers come in all shapes and sizes, and they're actually just as appropriate for summer fun as they are for weddings. (But safety considerations always apply!)
Whether you're celebrating your new nuptials or the neighborhood cookout, everyone loves a little flair (or flare, as the case may be) in your festivities.
Barbecue with Style
Sunny days and barbecues go together like yin and yang. It's safe to say the grill is at the center of most summer gatherings. Why not spice it up a little? Avoid fire hazards, of course, but don't be afraid to add some ornamentation to your barbecue zone. Knick-knacks and themed barbecue gear are a fun way to express yourself, and give your friends a chuckle. We've all seen "kiss the cook" aprons, but there are many other options out there to suit all tastes and themes.
However you choose to decorate your summer event, don't forget to enjoy yourself! Pretty days with food and friends only come around every so often, so have a blast (and don't forget your sunscreen)!