Ostrich feather centerpieces are extremely versatile. By changing the color, you can completely change the tone of the display. That's why this convenient décor option is so popular for big events. You can get that gorgeous look with less hassle – all made by hand! When is a great time to use ostrich feather centerpieces on your guest tables?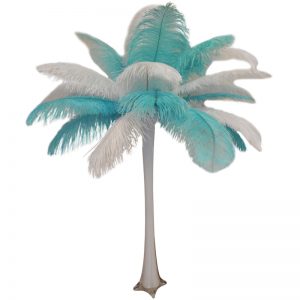 Weddings & Other Formal Occasions
Weddings and other formal events call for a higher degree of sophistication and charm when it comes to selecting the décor. Our ostrich feather centerpieces are a great choice for this type of celebration. They can be assembled in minutes and produce a luxurious look that will enhance atmosphere. A simple black and white ostrich feather centerpiece will make a bold statement or you can go for something more classy and colorful like our Tiffany ostrich feather centerpiece which features mint and white drabs.
Spring & Summer Events
Spring and summer is an exciting time! There are patriotic holidays like the 4th of July as well as birthday bashes, picnics and family reunions. Our brighter ostrich feather centerpieces are a must-have for warm weather events. The America ostrich feather centerpiece is as patriotic as it gets while the Tropical arrangement presents exotic colors that are beautiful at luaus and ocean themed parties. Add a few firecrackers or some seashells and you're ready to party!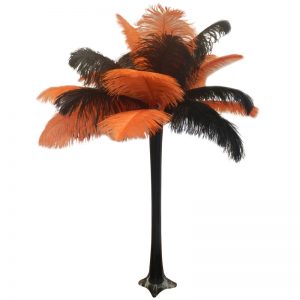 Halloween Parties
Halloween parties are an autumn staple event for many families. If you plan to host your own spooky get together, make sure you have all the finer details planned out. Our black and orange ostrich feather centerpiece is the perfect way to commemorate the creepy holiday. If you want to do something different, instead go for the black and purple version or alternate between the two (when decorating multiple tables). Ostrich feather centerpieces are reusable so you can use them each Halloween!
Christmas Dinners
Christmas dinner is always better with festive decorations. Set the table to perfection starting with a red and green Christmas ostrich feather centerpiece. If you prefer something more modern, try a Baby Blue feather centerpiece to go with a snowflake themed event. The possibilities are endless when you decorate tables with ostrich feather centerpieces!