READY!
A wedding is like a movie in a lot of ways. First and foremost are the stars of the show, our leading actors, the bride and groom. As in a movie, the wedding is the story about them and their lives.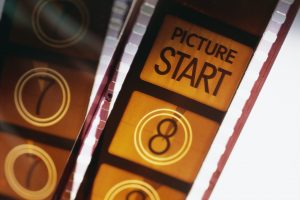 Next are the supporting actors, the bridesmaids and groomsmen. Their role, just like in the movies, is to support the bride and groom; in essence, to make them look good. Of course, every film has a director (the wedding planner), a production team, (the mother, the mother-in-law, the clergy, the photographer, the caterer, the florist) and finally, a set (the church, the hall, an outdoor pavilion, the beach). Today, I want to talk to you about the set.
SET!
Every set has to have perfect lighting. If you have ever watched a movie being shot, you would know that there are hundreds of lights, in various sizes and heights, which are used to provide the perfect lighting needed for filming. In the same manner, your wedding/reception needs the picture-perfect lighting to enhance your special day. A great way to achieve that look is with the use of flameless candles, such as the ones we sell here at Wholesale Event Solutions. Flameless candles come in different shapes and sizes to help you create the desired ambiance for your wedding. Plus, you won't have to worry about the set burning down!
Every set also has to have the perfect backdrop. At Wholesale Event Solutions, we offer many different styles of wedding colonnades to make your day picture perfect! For example, if you are going for the romantic look, use the classic Graeco-Roman Style Colonnade Arch; add some tulle wrapped in soft white lights and some beautiful potted plants and you are ready to go. Or, if you are a modern bride, use the Contemporary Oval Style Colonnade for a very sleek, elegant look. All of our colonnades are sturdy and stable, yet lightweight; which makes them very easy to assemble.
And, finally, every set needs the precise trimmings to make it look real. Wholesale Event Solutions offers a wide variety of decorations. We have vases of every size and shape for perfect floral arrangements, beautiful and unique table candelabras, and our ever popular Ostrich Feather Centerpieces, which come in every color under the sun. Choose whatever fits your style, or be bold and go with something distinctive and different!
ACTION!
Remember, you are the "producer" of your wedding! So, take charge! Browse our website and see what we have to offer. Let Wholesale Event Solutions be your co-producer in the finest and most important production of your life–your wedding. Congratulations and happy filming!