So, you said "Yes!" Now what?
Welcome to one of the happiest and yet, most stressful seasons of your life. You have so much to do and so much to think about. Getting started may be the most difficult part. Here are a few (101 is a few?) things to help you start organizing your thoughts.
Things to do first
1. Decide whether or not to hire an event planner. This is an important step. Too many brides end up losing money by skipping this. DIY weddings are for brides with a special abilities. Wedding planners can prevent you from making expensive mistakes that you may make on your own. After all, they have experience!
2. Make a running To-Do-List that you can add to and check off.
3. Obtain a marriage license.
4. Set the date. Do you want a spring wedding? The church is already decorated at Christmas time which can save you money. Maybe a fall wedding?
5.  Throw an engagement party. A little fun in the early stages can do a lot for stress. Plus it will be a learning experience for planning the big day.
6. Pick your wedding theme. Vintage? Modern? Trendy? Traditional?
7. Again trendy or traditional? If trendy, will it be something people laugh at twenty years from now when you are showing them your wedding photos. Bell bottoms anyone?
8. What are your wedding colors going to be? The Perfect Palette is a great place to look for inspiration.
9. Where are you going to have the wedding? Keep this in mind when choosing your theme and colors. Will your guests be able to attend a destination wedding across the country?
10. Check out the venue before making your final decision. Does it fit your theme?
11. Immediately get to work on the guest list! How big is your wedding going to be?
12. Go ahead and register at your favorite stores. Don't make people rush to find you a gift.
13. How can you make your wedding more eco-friendly?
14. Find a travel agent for your honeymoon. This can be skipped if you need to make room on your budget.
Money Matters
15. Decide how much you can spend on your wedding.
16. Prioritize what is important to you. You may need to give up on a few ideas.
17. Decide what can be rented. There are items that can be purchased for about the same price as they rent for. In those cases, they may make good gifts for your guests or …..
18. You can resell some items to make your money back. Ostrich feather centerpieces are a good example of this. You can purchase them for about the same price as you can rent them. Plus, they often resell for almost 70% of their purchase price! So there is no need to risk renting worn, rented feathers when you can get new ones and make most of your money back.
19. Choose your wedding vendors. Cheaper isn't always cheaper, if you have to send stuff back and pay restocking fees. Avoid companies that are just cheap knockoffs of reputable businesses.
Wedding Decor
20. Escort card displays
21. Wedding Centerpieces
22. Choose the color of your tablecloths.
23. Are you using round tables or rectangular tables?
24. Make sure your chair covers match.
25. What backdrops will you use for your wedding? Wedding Arches and Columns?
26. Choose a florist.
27. Lighting and staging.
28. Cake toppers
29. Napkins. Make sure they match the tablecloths properly.
30. Napkin rings
32. Flameless candles versus real candles. Flameless candles are not as messy, work better outdoors, and make wonderful gifts for your guests.
33. Accenting your decor. What colors are you using tor accents? Search for decorations that match your color scheme and fit in with your theme.
34. Looking vintage or looking dated? If your theme is vintage, make sure that your decor is classy. You don't want to look out of style.
Planning for the unexpected
35. Allow time for mistakes. Something will go wrong somewhere. Trust me. Don't do anything at the last minute if you can help it. Allow time for fixing stuff.
36. Order anything that is breakable early. Items like vases can be broken during shipping. No matter how well they are packed, FedEx and UPS can be careless at times. Open up everything as soon as it gets to you. EventsWholesale.com rarely has trouble with breakage, but in the rare cases that we do, we will ship out replacements to you at no extra cost to you.
37. Avoid looking cheesy by bouncing your ideas off others. Run things by your friends and family.
38. Insure your wedding rings! You never know when a diamond may fall out.
39. Wedding tents. Plan for rain! I don't care what the weatherman said!
40. Measure your tablecloths properly. Click here to learn how!
People to Think About
41. Bridesmaids
42. Bridesmaid dresses. What would they want to wear?
43. Choosing the bridal party.
44. Groomsmen
45. Find a photographer
46. Engagement photos
47. Location for engagement shoot
48. Poses for engagement photos
49. Poses for wedding photos
50. Trashy photos??? Think again. Not as funny as you think. I don't know about you, but I am sick of seeing photos with dresses hiked up and butts being grabbed. It looks dumb and the people in the photos come across looking unintelligent. Your children will see this one day. Don't do it.  Classy is better!
51. Find a videographer
52. Decide who to exclude from your guest list. I have a simple formula for this. Will there be more drama caused by excluding them or more caused by including them?
53. Find a band or a wedding singer. See them perform first! Remember this movie scene?
54. Choose your flower girl
55. Find a flower girl dress
56. The wedding officiant
57. Seating at the wedding
58. Family participation
59. Transportation to the wedding
Where to Look for Inspiration
61. Wedding Forums
62. Visit wedding blogs
63. Avoid bad advice online. See this article I wrote for more!
64. Green wedding inspiration. You can be eco-friendly and still have a beautiful wedding.
65. Check out these places for vintage wedding inspiration: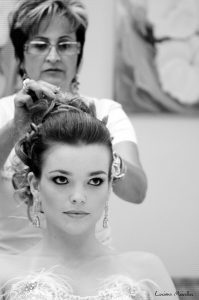 Don't Forget To Look Good!
66. Find the perfect wedding dress
67. Don't forget that dress alterations will need to be made. Everyone goes through this. Don't cry!
68. Wedding Hairstyle? Updo? Wear it down?
68. Find a hairstylist. Don't be afraid to say, "I don't like it!"
69. Wedding makeup. Are you going to hire a makeup consultant? If so, don't be afraid to say "I don't like it!"
70. Jewelry! What are you going to accessorize with.
71. Shoes
72. The bouquet!
73. Boutonnieres
74. Losing weight or not. Go to the mirror and look right now! See that? He proposed to you just like that. Use sanity here.
75. Do not crash diet. If you decide to shed a few pounds do it for your health and in a healthy manner.
Food
76. Wedding Cake
77. The wedding reception menu
78. The groom's cake
79. Hors D'oeuvres
Odds and Ends
80. Wedding favors
81. Make a website. This is a great way to keep everyone informed.
82. Wedding apps! Your wedding… There is an app for that.
83. Choose your wedding Invitations.
84. Decide how to word your invitations.
85. Send out "Save-the-dates".
86. Plan your reception activities.
87. Write your wedding vows
88. Choose songs for the wedding
89. What song will you do your first dance to?
90. Don't forget the father-daughter dance!
91. Disposable cameras. Buy several of these for your guests to use. This way, you will have photos from many angles.
92. How long will your wedding ceremony be?
93. Welcome bags
94. Plan the getaway. Wedding sparklers make for a sensational exit. What car are you getting away in?
95. Wedding stationery
96. The guest book
After the Wedding:
97. Choosing a honeymoon location
98. Thank you cards
99. Relax. You made it! Allow yourself to chill out now.
100. Prepare to refocus when going back to work.
101. Have a post-honeymoon date night. Sometimes, there is a little post-honeymoon depression that sets in. You are back at your job and all the attention you were getting fades away. Make a few more special nights and keep celebrating your new life together.