Don't want to swim with the fishes? Then lend me your ear for a few ticks of the clock.  Jen Carver, from Banner Events here with a guest post that will help kick up your next adult birthday celebration a notch or two with a few bullet-proof principles of party design.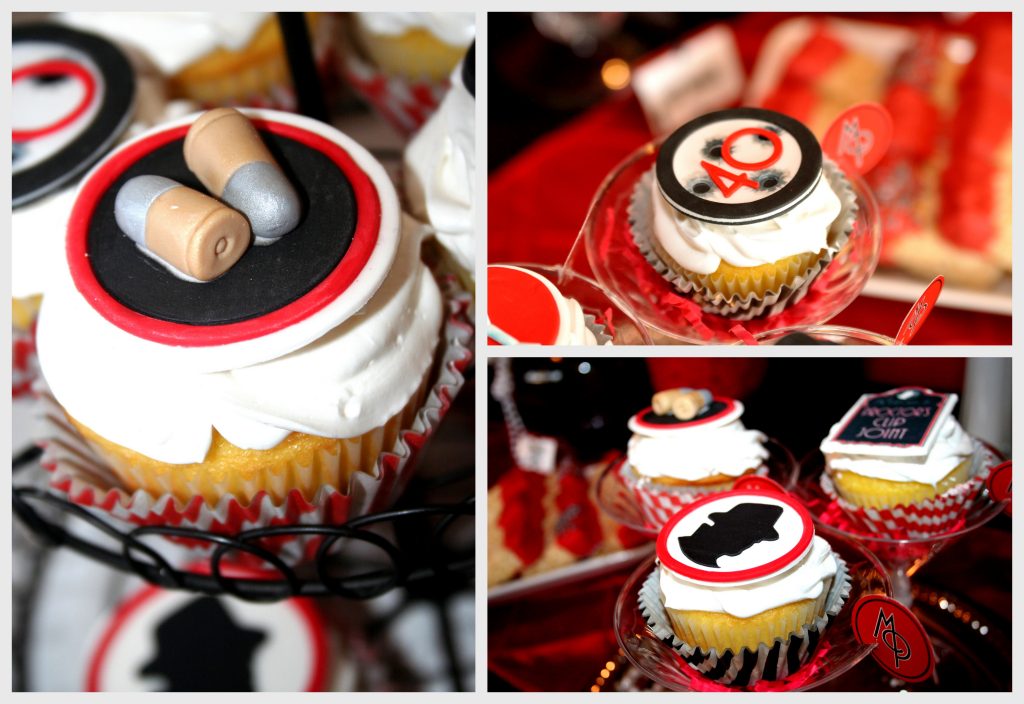 Make Milestone Birthdays Memorable:
Who says turning 40 has to be the pits? Milestone birthday celebrations will always be en vogue,  and celebrating a 40th birthday can be the bees knees for both the guest of honor and party goers with a little planning,  some swanky party props, costumes & décor and of course, delicious food & drinks.
First:  Choose a Theme!
Or better yet, let the theme choose you!  Choosing a theme doesn't have to be difficult.  Grab a pencil and paper & quickly jot down a few things related to the guest of honor.  The list could include his/her job, hobbies, interests, talents, goals–really anything from which you can derive a theme.  Once you have your initial list, do some additional brainstorming, adding some ideas of how you might transform this simple idea into an overall theme. (Things to consider:  invitation, party decor, food & drink, favors, entertainment & music.)
Let me illustrate this principle.
A  fabulously creative client recently helped her husband bid farewell to his roaring 30s with a 1920s style gangster themed surprise party attended by his closest friends and family.  Who doesn't get excited about the thought of zoot suits, wing tips, cloche hats, feather boas & fedoras?  This theme was decided upon after a few quick questions which revealed that the guest of honor was a huge fan of the popular game Mafia Wars.  Quickly, ideas for food (Italian pasta bar) and drink (self-serve Mockarita bar) were scratched on paper & a theme started to take shape.  With the basics in place, additional brainstorming was done to tie little details to the main theme.  More on that in Step 3.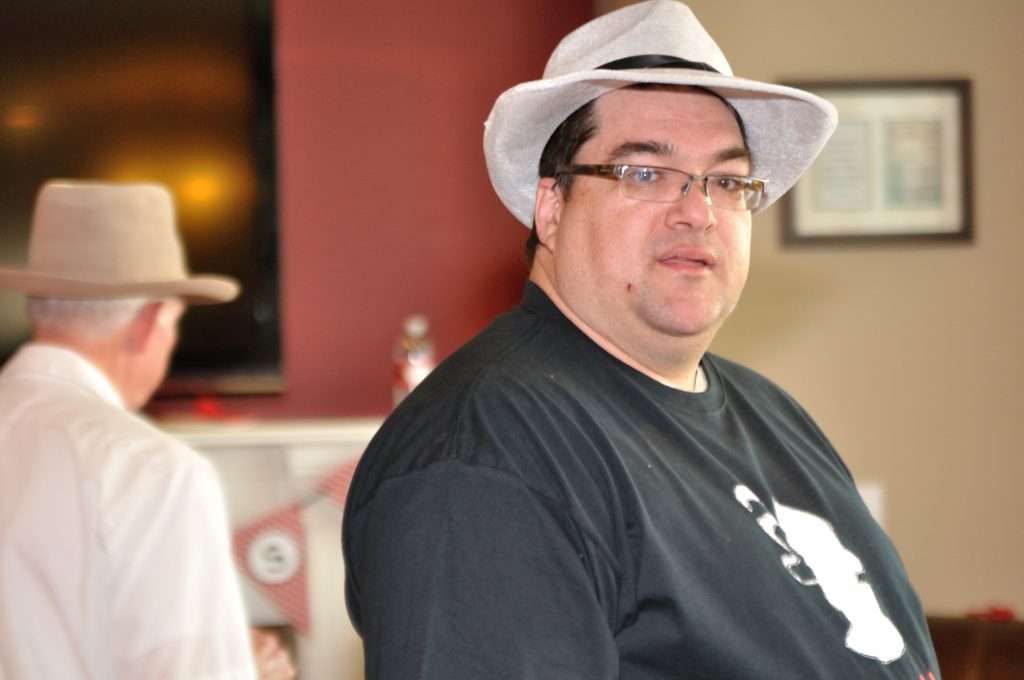 Second:  Set the Stage
Of course, setting the stage for an unforgettable evening is a must and sending out the perfect invitations is a great way for guests to catch a glimpse of all of the fun to come .  Custom paperie is a popular & affordable party trend which not only allows for more personal expression than many store bought invitations and decor provide, but also affords one the ability to completely coordinate all of the little details that take an event from ordinary to extraordinary.
For this event, gorgeous Art Deco inspired invitations & party printables were created by the talented Dolly Robison of Paper Perfection.  Photo booth tickets were included as a small enclosure with the invitation and were a clever way of encouraging guests to dress the part.
Come as a flapper or come as you are.
Dress as a gangster or a silent screen star.
It's going to be fun no matter the dress.
Just bring yourself.  I'll do the rest.
Third:  Pair Well-Planned Details With Your Theme
You did your homework in step 1, now don't forget to put it to good use.  Let your creativity take center stage as you insert fun theme coordinating details into your event.  Here are a few of the clever & festive details we incorporated.
The party area was decorated to resemble a 1920's style 'Clip Joint' (gentleman's club).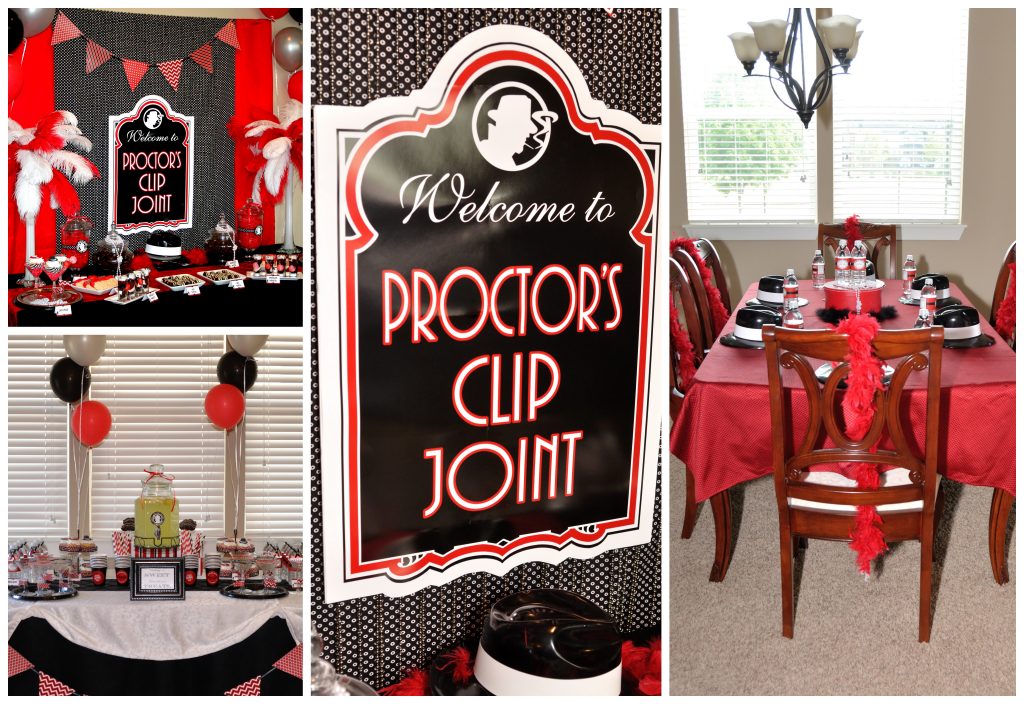 We added some intrigue as guests arrived, by decorating the entry way.  Our entry door featured a 1920's style WANTED poster picturing the guest of honor, modeled after an Al Capone poster from that era.  A faux metal beaded curtain from Event Decor Direct hung at the door to immediately give that club vibe.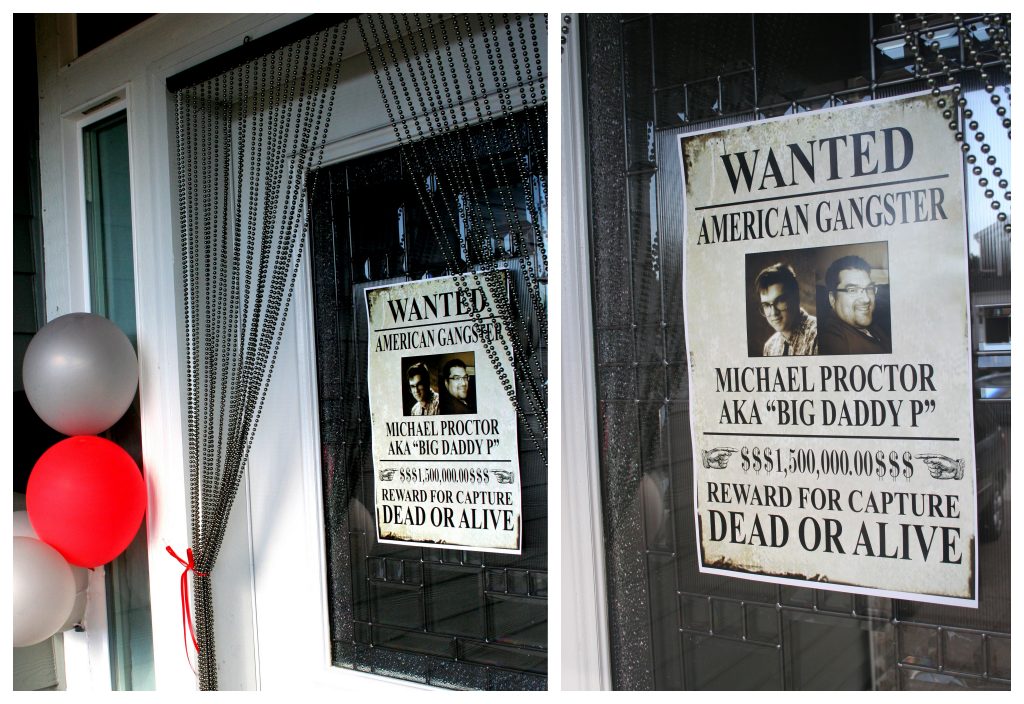 Once inside, the seating and dining areas were dressed up with red feather boas (PartyFeathers.com)  & fedora hats from Windy City Novelties.  They served as part of the decor, but also functioned as wardrobe accessories for guests to use in the photo booth and take-home as a party favor.
Water bottles were dressed with printed "Mafia Water" labels, some ribbon & a little bling.
While this theme lends itself to several fun variations & many may choose to play up the Prohibition angle with a Speak Easy & "Boot Leg" bar, my friends preferred a non-alcoholic approach. We offered a self-serve mocktail bar.  Sugar rimmed martini glasses from WebStaurantStore embellished with drink flags, filled silver trays.  Guests enjoyed being able to quench their thirst throughout the night, sipping yummy mocktails through festive striped straws from Hey Yo Yo.
We wanted to offer guests appetizers they 'couldn't refuse' that still corresponded with the theme, but also made for a lovely presentation.  Caprese skewers, fruit kabobs & Italian stuffed mushrooms (not pictured)  foot the bill!
Big, gorgeous ostrich feather center piece kits from Wholesale Event Solutions were effortlessly assembled (thanks to their free online tutorial) and added that "wow" factor that kept guests reminiscing of an earlier era.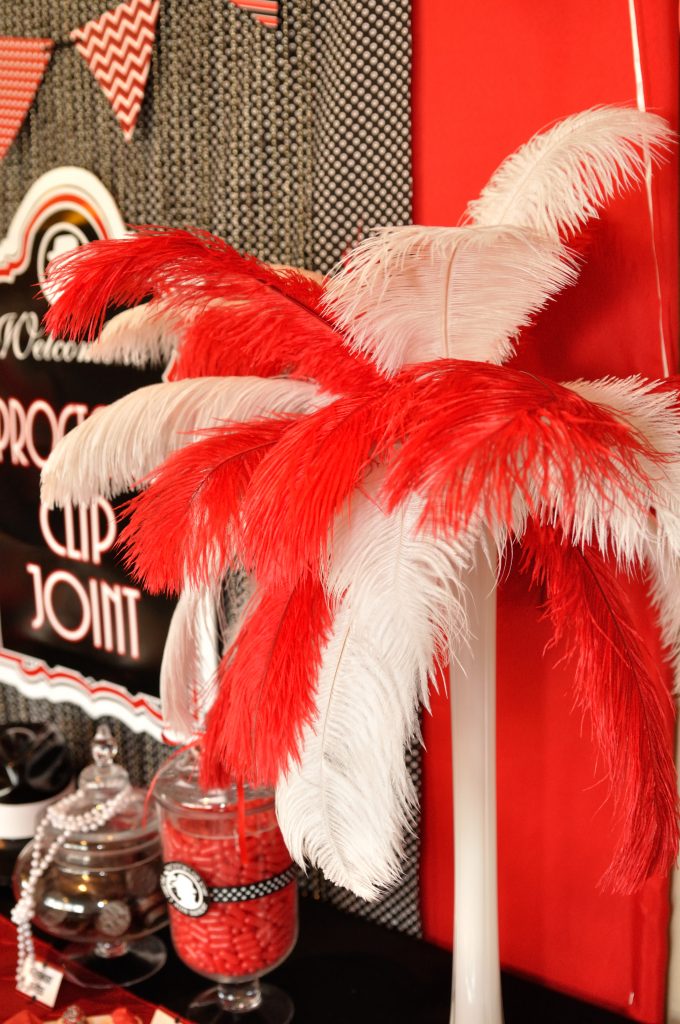 Chocolate bullets were creatively packaged as take home favors.  Every gangster needs a few spare 'slugs'.
Guest of honor sweet treat favorites were incorporated into the dessert table. Including lemon cupcakes with white frosting and ornate fondant toppers designed by Brenda of Sugar High Inc., chocolate parfaits, Hot Tamales, Cinnamon bears, chocolate dipped Rice Krispy treats, & Oreo truffles.
Entertainment included several theme appropriate games ('Pockets, Purses & Wallets'-Gangster style & '10 Fingers') a tribute video, 1920s era music and a photo booth which  provided a fun way for guests to remember the night!  It was stocked with funny props & costumes.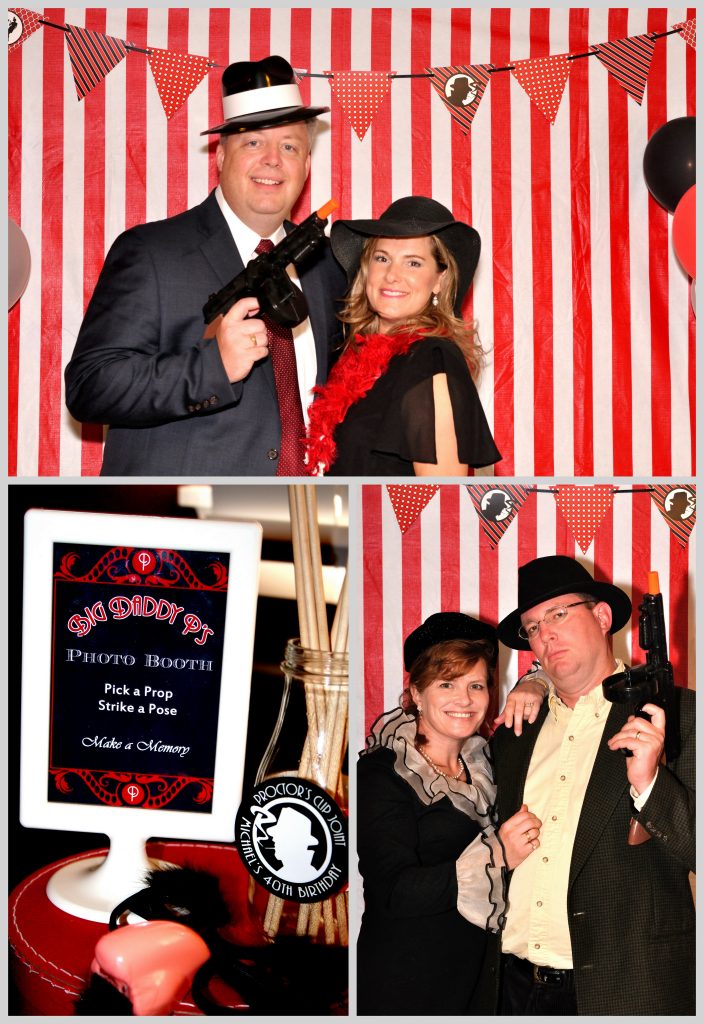 Fourth:  Be a guest at your own event!
You've put in the work, now don't forget to enjoy yourself!  Relax.  Smile.  Laugh.  Your guests will follow your lead.  I love that my friend & her husband (the guest of honor) were found having fun with photo booth props (like the fedora hats from Windy City Novelties and feather boas from PartyFeathers) in the photo booth, laughing with guests & enjoying their own food & desserts.
Vendor Credits:
Jen Carver, Banner Events:  Complete Event Styling
Event Photography: David Wolf Photography
Paper Perfection:  Printable invitation & Party Graphic Design
Wholesale Event Solutions: Ostrich Feather Centerpiece kits & Eiffel Tower Vases
WebStaurantStore:  Plastic martini glasses
Windy City Novelties:  Plastic fedora hats
Event Decor Direct:  Faux silver beaded curtains
Sugar High Inc., : custom fondant cupcake toppers
Hey Yo Yo:  Striped paper straws & designer cupcake liners
Naughty Stitches:  Custom Applique shirt
Resources:
www.tableclothfactory.com — tablecloths & runners