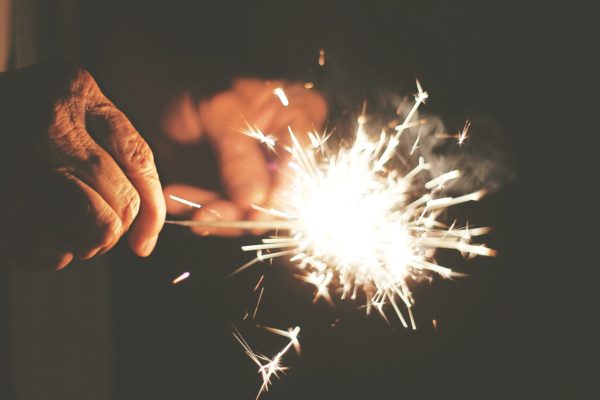 Sparklers might typically be associated with the fireworks of the Fourth of July, but they'll add a lot of fun to your wedding, too! Brides and grooms have come up with tons of exciting ways to incorporate these into festivities. This week, we're sharing some distinctive ways to include sparklers in your wedding reception.
Cover Your Cake with Wedding Sparklers
Birthday cakes have candles, and wedding cakes should have sparklers! Sparklers on your cake add an awesome bit of flair that will stand out for your guests. The sparks are unlikely to make anyone sick, but if you want to be extra careful go with food-grade sparklers. The greatest danger is the flame, so we have some great tips for how to keep your guests safe. And don't forget to tell your bakers about your plan so they can design your cake to showcase the fireworks!
Take Some Cool Photos
Wedding sparklers in your photos is an exciting way to take advantage of the evening event ambiance. Using the long exposure effect, spell out your wedding date, your names or words like love, thank you, Happy Holidays or anything that means something to you! You'll end up with some amazing photos that capture the magical feeling of your special day.
A Fiery Send-off
The most popular use of sparklers at modern weddings is the reception sendoff. Simply give each of your guests a sparkler and ask them to line up in two equal lines on the way out of your reception venue, creating a runway for the bride and groom. As you exit, your guests will send you off to your happy future with a truly festive display. Remember to tell your photographer well before the event for both positioning and safety!
Sparklers are an inexpensive buy that add a lot of enthusiasm and beauty to your wedding reception. Your guests will have fun playing, and your photographer will capture beautiful pictures that will add a great touch to your wedding album.