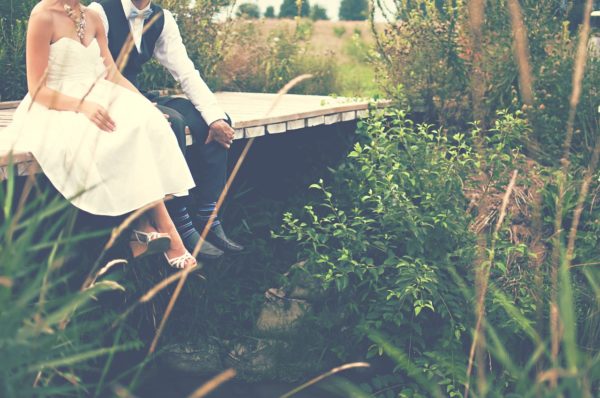 For good reason, summer weddings are always popular. People love being outside, and outdoor events can be some of the prettiest for pictures, ambiance and tone. But along with that fun comes some unique challenges. More than any other season, if you're not prepared, you might end up with miserable guests rather than the awesome summer wedding you deserve!
#1 Keep Your Guests Cool
If your summer wedding is outdoors, you definitely need to plan around the heat of the day. Planning for an early morning or late afternoon wedding is probably best. Use pretty folding fans to double as a comfort measure and a wedding favor. Want to go a step further? Print your wedding program on the fan! If the weather is particularly hot, go the extra mile and rent industrial fans to cool the whole area. Every person in the room will help to raise the overall temperature, so if your reception area is tented, you'll definitely want air conditioning. Your guests will thank you!
#2 Bugs Be Gone!
Bugs come out in summer, and they can put a real damper on a summer wedding if you don't keep them under control. The most important deterrent is to keep food covered tightly. Choose flowers that don't attract bugs, and add herbs like lavender, lemongrass or rosemary to your table decorations to repel them. Another favor idea? Individual bottles of bug spray for your guests as they enter the venue. Cute and useful!
#3 Get Creative With Summer Wedding Decorations
Fresh flower decorations are the norm, but they don't always work for summer weddings, because the hot air can cause fresh flowers to wilt quickly. As an alternative, try artificial flowers, balloons, feather balls or get creative! If you plan on partying after dark, candelabras are a beautiful choice. They provide great lighting and a very cool ambiance for your event!
When you know how to plan your way around the barriers, you can have a beautiful wedding even in the dog days of summer. Just make the comfort of your guests your top priority, and everyone will have fun!