This blog writer once had the unforgettable experience of peeking inside an Indian woman's closet. The saris were every color of the rainbow, even the pastels brilliant! The lady showed me the sari she had worn to her daughter's wedding. Its richness was breath-taking.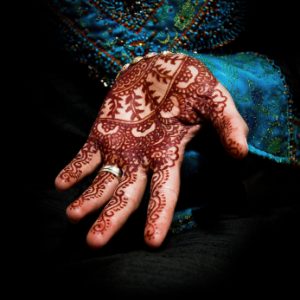 A Hindu Indian bride's sari is richly decorated in gold embroidery and bangles. Brides from Northern India prefer red, Northeast India white with a red border, the South yellow, green and white silk, and the West an embroidered skirt with a blouse. Most all Indian brides present themselves fragranced with perfume, palms of hands and feet painted with mehendi designs, hair bedecked with flowers, necks draped with necklaces, and ankles gracefully moving with tinkling silver anklets called payals.
Hindu grooms are not to be outdone. They sometimes sport a sword and a jewel-decorated turban called a tupi and arrive for their wedding on horseback, preceded by a brass band!
The Brahmin priest officiates before a fire-lit metal vessel representing the Radiant One. The bride and groom exchange garlands and affirmations and walk around the fire. The groom's father puts his daughter's hand into the groom's and pours priest-blessed water over their hands. A tali (a jewel set in gold) is secured around the bride's neck to tell the world she is now a married woman. Guests receive perfume and flowers and can enjoy several days of fancy dinners.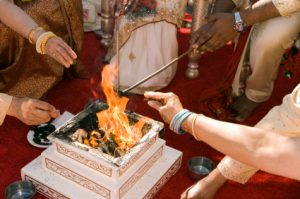 Following some Hindu Indian marriage ceremonies, the bride's sisters ransom her! They take her to their house where the groom has to pay a call and bribe the sisters with gifts before they will let him take her home!  Not a bad idea, right?