Vintage Weddings Part 2:  Formal
Earlier this month we ruminated on the difference between eclectic and formal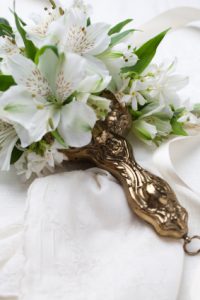 vintage-styled wedding receptions.  Both have their charm, for sure.  Eclectic allows for a more laid-back, mix-n-match style that can showcase your individual interests and creativity.  Scouring antique shops and attics adds to the treasure-hunt fun of this look!  But preparing a more formal vintage reception can truly recreate the height of Victorian elegance.  If you have family heirlooms, this is the time to show them off.
Starting with our white and cream base colors, picture adding a metallic touch – either silver or gold.  Anchor your table with a stunning centerpiece like the 24"  or 40" Nikki Candelabra.  Or the silver 20" stand with glass votive holders.  Take that look farther by using the Willow Tree line for your aisle candelabras and hanging crystal votive holders in the trees surrounding your reception.  Enchanting!
Some other elegant vintage touches could include:
Metallic plate chargers.
Metallic chair sashes.
Lace or silk-look pintuck table cloth covers in honey, gold, ivory or pewter.
Mix-and-match antique napkin rings.
Old linen napkins in white and ecru.  Use a mixture of plain ones with those trimmed with hand-tatting and lace.
Vintage-look wedding cake stands.  Not to be overlooked for the traditional Victorian wedding, which would have featured three cakes:  an elaborately decorated fruitcake, a white bride's cake, and a dark groom's cake.  Consider some old-fashioned-looking boxes to send home slices with your guests as they would have done in yester-year.
Place card holders like our "work of art" line.
If you feel compelled to add a color to your formal winter whites, there's nothing quite so bold as deep red – especially for that amazing Valentine wedding!  Picture pops of burgandy among your roses with the "imperial" exquisite glass photo coasters!  Your guests will always remember the contrast of whites and reds.
Another option for spring or summer? The royal touch of flow blue.
Whether you choose eclectic or elegant, we hope our tips get you going!  Have fun planning your vintage reception!  Have a tip to share?  Please leave it along with your "calling card" right here!