Every glass vase size and shape presents a new way to create a unique centerpiece for weddings and other important events. You can grab a handful of flowers, place them in the top and call it a day. This approach is easy, but won't give your centerpieces the fine detail and memorable appearance that a well-planned arrangement will. The following centerpieces will really wow your guests!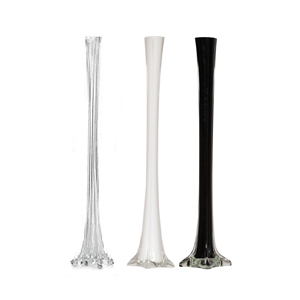 The Romantic Eiffel Tower Vase Centerpiece
To create this look, get eiffel tower vases in your preferred size and finish. Add a solitary rose to the top. Classic red roses are a great choice, but you can make it more personal by choosing a unique hue – like the bride's favorite color (for weddings).  Gather matching flower petals and scatter them around the bottom of the vase and you have a simple yet romantic DIY centerpiece! 
The Tropical Trumpet Vase Centerpiece
Trumpet vases are clear, which means you can create a wall of color from top to bottom! Fill the interior with your favorite water bead pearls. Blue is a great choice because it creates the shimmer of the sea. Next, add in a bouquet of your favorite exotic flowers. This look can be accentuated by seashells scattered on the table or brightly colored ostrich feathers worked into the arrangement.
The Natural Cylinder Vase Centerpiece
Cylinder vases come in all sizes, so find something that matches your table size, budget and vision for the finished display. Natural arrangements can very, so don't be afraid to get creative! Add a twig and river rocks to the interior along with your favorite organic accents. This creates a beautiful scene that looks like a miniature environment! The exterior can be wrapped in ribbon, a strip of burlap, raffia or a layering of materials for added effect.