Mardi Gras just wouldn't be Mardi Gras without the characteristic masks, beads and exotic colors, but you don't have to stick with the usual. A Mardi Gras theme can go beyond the typical expectations with a few awesome extras. So, just in time for the celebration, we're sharing a few of our best ideas for infusing the spirit of Mardi Gras into your event!
Start with the Food!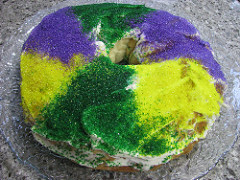 Food is the best part of every party, don't you agree? Mardi Gras is definitely a meal-ready holiday with tons of great eating choices. Pancakes are usually served on Fat Tuesday, but there are lots of options for the rest of the two-week Mardi Gras season. For your get-together, you'll definitely want to consider serving shrimp gumbo, jambalaya or mufflueta. Some of the customary Mardi Gras sides are red beans and rice, meat balls and cole slaw. Of course, you can't forget to finish up with yummy beignets and the traditional King Cake.
Decorating with Style!
You don't have to travel to New Orleans to enjoy the festive atmosphere of the French Quarter at your party. Add sophistication and distinction to your Mardi Gras event with this elegant arrangement of ostrich feathers. Nothing says "Mardi Gras" more than the beautiful, colorful combination of gold, purple and green ostrich feathers rising from an Eiffel Tower Vase! If you're planning a sit-down meal or have assigned seating, display guest names or table numbers with bright Streetlight Place Card Holders. For decorating the room, consider fun, flirty and fantastic Feather Boas! With more than 30 boa colors and weights available in our store, the only limit to your decorating options is your imagination. Hand them out to guests, wrap railings or columns, throw them on the tables…whatever comes to mind, because everything is more fun when you're wearing a feather boa! Sometimes it's those perfect little touches that make the difference between blah and amazing!
Entertainment
Although an essential at many Mardi Gras parties, drinking doesn't have to be your only Mardi Gras activity! If you've got time to spare, you can create your own carnival with a balloon pop, apple bobbing, bowling games and bean bag throws. Everyone loves to get their creativity on, so set up a make-your own-mask station or hold a costume contest. Crown the two with the best costumes King and Queen of the party!
With our suggestions and your vision, your Mardi Gras celebration will be the best!
photo credit: Natalie Maynor via Flickr cc by 2.0
photo credit: Mark Gstohl via Flickr cc by 2.0