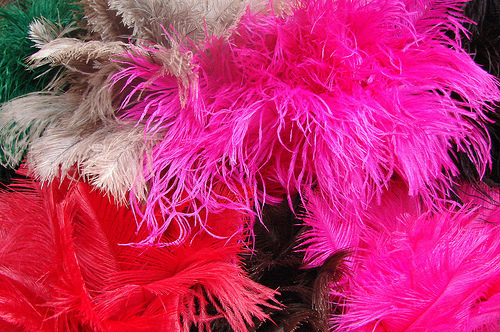 Ostrich feather centerpieces are one of the best choices for your tables, and for good reason—they are a versatile decoration that adds flair to any event. But what do you do with the beautiful feathers when your event is over? With proper care and handling, you can use ostrich feather centerpieces forever, but what if you want to get creative? We're sharing a few ideas to help you make the most of your leftover feathers.
Ostrich Feathers as Art!
Art can be anything, but ostrich feathers are so easy and fun to work with, you won't have to work that hard to create something amazing. Use your imagination and make a piece of art that lends style to your home while serving as a lovely reminder of your event. And when house guests ask about the piece, you get to gush about the great time you had!
Design a Feather Wreath
Wreaths are usually made out of leaves, flowers, fruit and stems, but there's nothing stopping us from innovation! Because of their size, texture and flair, the ostrich feather is an exciting wreath component. Use your feathers to make a beautiful wreath for Christmas or all year round.
Use in Your Event Scrapbook
Your party will be even more memorable when you add ostrich feathers to your scrapbook page or to spruce up the cover of a photo album. Use several feathers around a photograph as an attractive picture frame!
Spruce up an Outfit
A feather boa adds a stylish touch to the right outfit. But ostrich feathers add elegance to so many other clothing items! Add to the sleeves of a dramatic dress, an attention-grabbing hat or even a wedding bouquet! Using your ostrich feathers on personal items is a wonderful way to remember your event.
Make Your Own Ostrich Feather Jewelry
Feathers make an awesome embellishment for jewelry. If you have a few smaller ostrich feathers, you can use them to fashion a beautiful pair of feather earrings, gorgeous headpiece or even a statement ring. Larger feathers are great for necklaces or a beautiful layered bracelet. The possibilities are endless—just get inspired!
Few event decorations are as useful as the ostrich feather. With a little creativity, your ostrich feather center pieces will be not just the center of attention at your event, but when you get back to regular life as well!
photo credit: raider of gIn via Flickr cc by 2.0