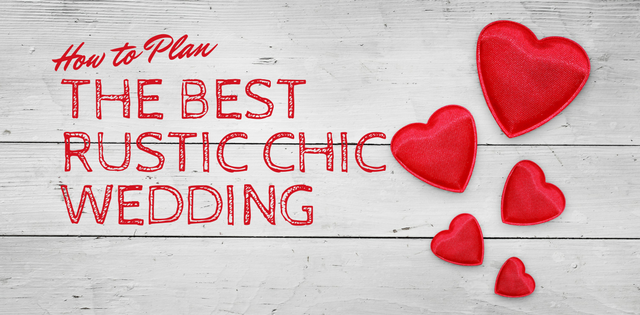 Rustic weddings are beautiful and intimate–making rustic one of the most popular themes right now. People are drawn to the idea of a rustic chic event for that perfect mix of simple and elegant with an old-timey country vibe. Fall is a great time for these ceremonies, though any time of year will do with the right setting and ornamentation. What goes into the perfect rustic wedding? Let's find out!
The Location Advantage
One thing you have on your side with a rustic chic wedding: Not only do you not have to seek out a fancy, formal wedding site, you actually shouldn't. A rustic wedding is best set outdoors, maybe at a barn, a public park or even someone's backyard. These are some of the more inexpensive locations you can book, so you can apply those savings elsewhere or pocket them for the honeymoon. Plan for this to grant your budget a little flexibility.
Pastoral Decorations
Hand-stenciled signs and intentionally imperfect floral arrangements (as though just picked from the garden) abound at rustic weddings. Think simple with your décor, and avoid anything that seems over-planned. For your tables, use vases of wildflowers or sunflowers as centerpieces. Incorporate pastoral touches in your favor bags and place cards. Go online and look at pictures of other rustic weddings for inspiration. It's not cheating! With so many takes out there on such a popular theme, identify the elements that will work best for you and fold them in with your own unique twist.
Don't Lose Sight of the Details
Venue and decorations definitely take center stage with a rustic chic theme, but don't focus so heavily on those areas that you lose sight of the little touches. You have an opportunity to incorporate your own signature into every facet of your wedding. Think about how you might add a rustic note to music playlists and to your wedding cake. Pinecones are your friend and can be used as accents pretty much anywhere. ("Simple" may be one of your themes, but remember that planning any type of wedding is never actually simple in practice.)
Did you have a rustic-themed wedding? Drop us a line, we'd love to feature you in a future article!