So you are faced with a monumental challenge: marking the "coming of age" of your precious child in a manner special enough to show them what they mean to you, WITHOUT embarrassing them! That can get tricky, right?
Start by talking to your teen about what he or she wants. And listen! Kendall Kardashian would certainly agree. Consider the personality and interests of your son or daughter. Does he or she prefer to throw a big bash or to celebrate with a more intimate circle of friends? The key is not to impress, but to honor the life, character and accomplishments of your special young adult. And of course, for him or her to have fun with friends. Discuss scale, budget, invitations, time frame and rules, including parental supervision and expected behavior. Stick to your decisions even under last minute stress.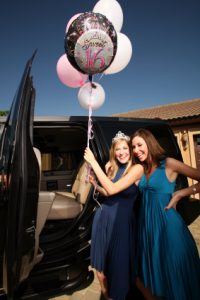 If your son or daughter is amenable to their 16th birthday being celebrated in a big way, remember that doesn't have to mean big budget. There are many options for creating an event they will remember the rest of their lives. Try these ideas on for size. Mix and match to create the perfect party ensemble:
Theme, decorate and create activities according to your child's favorite area of interest (music, soccer, horses, swimming, shopping, etc.).
Teens are intrigued by wild colors and glow in the dark, so how about a black light party? Have everyone wear neon colors or white – or provide white T-shirts they can color with highlighters before donning. Provide glow sticks and bracelets as favors. Consider draping a blank sheet or banner in an area safe for guests to create a painting using glow in the dark colors. Light florescent ostrich feather centerpieces and pump out the mist with a fog machine. You've created a dance party environment that will keep them chatting and laughing all night and for weeks to come.
How about a mini-fireworks show, with sparklers for the guests?
Dress-up days are not so long forgotten at 16. A masquerade ball with an unveiling at a set time can provide loads of intrigue.
Another intriguing idea: a murder mystery party at a cool locale like an old house, hotel or club!
Invite girls to relax at a spa party, "DIY" (take turns doing nails and mix your own bath products as take-home favors) or high maintenance (hire a massage therapist or spa specialist) according to your choice.
Make sure you tempt the teen palate with food favorites like pizza, hot wings, burgers, tacos, fruit. And perhaps a sundae or candy buffet, or a chocolate fondue fountain.
Karaoke!
Video: yes, you might present one celebrating your teen's life if such a showing won't cause your kid to crawl under a table (get clips from friends, coaches, pastors, and favorite teachers), but you also might have the guests make one at the party and allow them to edit it music video-style.
Rent or set up your own photo booth.
Pool parties are tried and true and usually don't sink.
Take a select group of buddies to do something EXTREMELY cool like bungie jumping, paint balling, or sky diving.
To incorporate tradition, have your teen light 17 candles and share the special meaning of each person as they go (1-2 parents, 3-6 family, 7-14 friends, 15 best friend, 16 boyfriend/girlfriend, 17 luck/hopes for future).
Some girls may enjoy a makeover followed by a "modeling shoot" with a hired photographer.
Go retro from invitations to decorations to costumes – just pick your favorite era from the past!
Party on the water! If you live near a lake or the ocean, consider renting a catamaran, yacht or speedboat for skiing. Get permission to dock near a private island for picnicking and games.
Do YOU have successful tales of super sweet 16s? Please post and share with our readers!