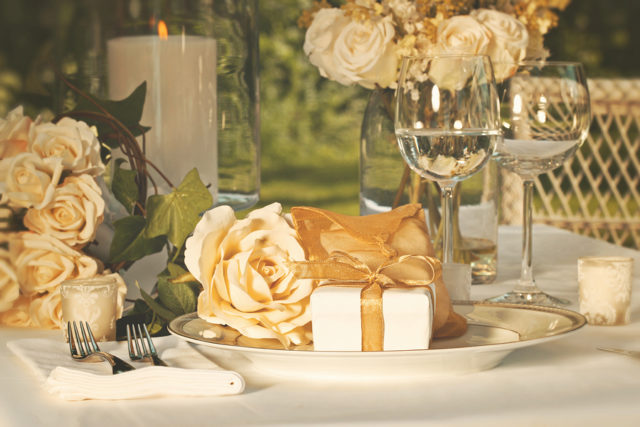 Sometimes it seems like the administrative decisions to be made for your wedding are endless! As rewarding as it is to create your perfect day, a lot of the fun comes with customizing the guest experience as well.
A big part of the enjoyment—and a great way for you to express yourself—is choosing your wedding favors. When choosing wedding favors, we recommend going with something your guests will actually use. But the best favors are something that connects to you and your experience as a couple. So let's take a look at three fun ways to thank your guests for joining you on your big day.
For When You Need a Drink!
Corkscrews and bottle openers are knick-knack-sized items your friends and family will actually use, and they're easily customizable for different styles and themes. Everyone needs coasters—and most people don't mind having multiple sets. Even easier are bottle stoppers for those wine and champagne aficionados on the guest list.
Personalized wine glasses are a nice touch. Or if you're going for trendy, mason jars are still popular. If budget isn't a consideration—or your wedding is quite small–engraved flasks are a very nice choice for a wedding favor that will last.
For Practicality's Sake
For those practical-minded folks among us, the best gift is one that can be used in everyday life. Themed or customized pens, flash drives and even tape measures are all items brides and grooms have gifted. With these choices, adding a pun or saying to the printed text, is always fun. Keychains are a nice option, as are measuring spoons or measuring cups. They don't have to be heart-shaped, but bonus if they are!
Most items can be marked in some way to reflect your wedding date or just a wedding theme in general, so free your mind. Think about something that would be particularly useful to you or your guests and make it happen. Your only limit is your imagination!
To Spruce Things Up
Everyone can use nice home goods! Consider reed diffusers and candles as items that can find a place in any home. If most of your guests are local, small plants or even birdhouses are thoughtful gifts that look nice in the home. Soap—especially if you can find a local vendor—is a thoughtful choice.
And if your wedding takes place near a holiday, any decoration fitting that holiday theme is great. Christmas ornaments in particular open up a world of possibilities.
They say it's better to give than to receive. And, fortunately, it's your wedding, and you can do both!
image credit: Bigstock/Sandralise