Glass terrariums are a gorgeous way to add detail to any event décor. They come in a variety of shapes, each offering a clear surface that blends well with any color scheme or theme. If you are trying to find creative ways to use terrariums in your event, we can help. Read on to discover five unique ways to use glass terrariums in your next event!
Create a Whimsical Setting with Candlelight
Terrariums look gorgeous when they glow! Try adding a tealight or an LED candle to make your terrarium light up. LED candles are appealing because they can be used with other décor items inside the terrarium. Add a bed of leaves, flower petals or fabric then place your LED candle right on top. When decorating for an outdoor event, consider hanging from tree branches at different levels for a more enchanting backdrop. You can even maintain a natural theme by choosing our glass apple terrariums.
Combine Classic Glass with Modern Colors
Sticking with the illumination theme, you can also use glass terrariums to create fun party lighting. Instead of a candle, try placing a Floralyte inside each terrarium. Floralytes come in a rainbow of colors so you have more options. Choose two or three or go for a rainbow effect! This is a great choice when decorating for birthday parties, bachelorette parties or any event you want to be more upbeat and exciting!
When using a Floralyte, make sure you add other décor to "hide" the bulb. Flowers, tissue paper, leaves, fabric, diamond confetti or anything that fits the tone of your event. Styles like our 3" by 9" hanging terrarium is a good choice when using smaller filler.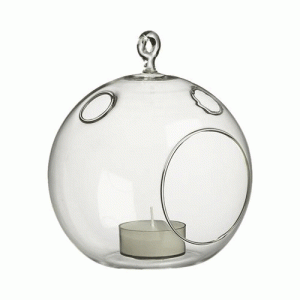 Turn Glass Terrariums into Seasonal Décor
Terrariums are a perfect choice for seasonal décor because they are so easy to customize. Try adding a twig with pine needles, small pine cones, faux snow, holly berries or other wintry items for a Christmas display. Switch things up with tiny bunny figurines, butterflies or blossoms for Easter. Transform your terrarium into a Valentine's Day decoration by adding red fabric or tissue paper, hearts, roses and other romantic items.
Build a Miniature Scene Inside Glass Terrariums
One of the most unique ways to dress up your glass terrariums is to turn them into miniature scenes. Add a layer of moss, faux snow or fabric to match the scene then start decorating. Tiny trees, flowers and other accessories can be used to create something that looks realistic. Try using miniature railroad accessories to put the finishing touches on your terrarium scene. Terrariums with flat bottoms, like our round hanging terrariums, are best for mini scenes.