What's the best part of the holidays? Yes, friends, family, food and the spirit of giving are great, but most of all, we love the twinkle and sparkle of holiday decorations! This is the time of year when houses inside and outside turn into sea of lights and delights. Unfortunately, the magic doesn't happen by itself. So whether you're planning a big holiday bash, an intimate gathering or just decorating for yourself, get ready to get your warm and fuzzy on for a festive holiday!
Winter Wonderland
Wintry weather is a hallmark of the season and, even if you're celebrating in a warmer climate, snow is perfect for a holiday motif. Snowmen, snowflakes, icicles and other winter-related decorations are timeless and universally-accepted signs of the holidays. You can even make your own snow if you want! And, since the theme isn't directly tied to the holiday, you can make a valid argument for enjoying your decorations up just a little further into the new year!
For display areas on mantles or side tables, we love mixing the cool look of white on white with the soft glow of flameless candles or flickering LED Lanterns. Stringing snowflakes or cotton balls from ceiling to floor is the perfect way to create an indoor snowstorm.
Need a few accent pieces to make your display pop? Pinecones, branches and white peacock feathers will make your winter wonderland come together for a gorgeous show piece.
A Holly Jolly Holiday!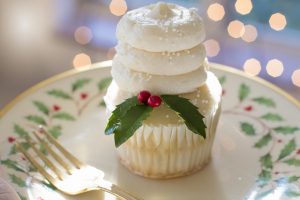 Winter scenes are beautiful, but sometimes you do want some green. You'll find holly, mistletoe and fir garlands just about everywhere through the holiday season. All three are great (and traditional!) choices, because they stay green through the winter months. And they're versatile enough to incorporate into any theme. But watch out! Some folks get cheeky around the mistletoe…
Add holly leaves and berries to different sized cylinder candle holders, add some water and floating candles, and you have a delightful holiday display. If you don't want to use actual branches and leaves, there are loads of patterns–from tiny accents to full-size wall layouts–to create a festive mix of greenery from paper, yarn or felt.
If you're hosting guests for the holidays, don't miss the opportunity to use food as a decoration. Cupcakes and drinks can both be garnished with holly sprigs!
Bring it on Home With the Lights!
Inject a warm glow into the chilly winter weather, because the holidays mean twinkle lights. No need for anything over-the-top or gaudy, and forget about competing with the neighbors. Unless you want to!
Think lights only belong on a Christmas tree? No way! Inside or out, set the tone you're looking for with simple, tasteful strings of white lights or choose to go with the old-fashioned globe lights. Whatever type you choose, your lights can go anywhere from doorways, ceilings, under the tree or embellishing surfaces throughout the house. And if you're using lights as a theme, M&Ms are an edible stand-in for decorating desserts!