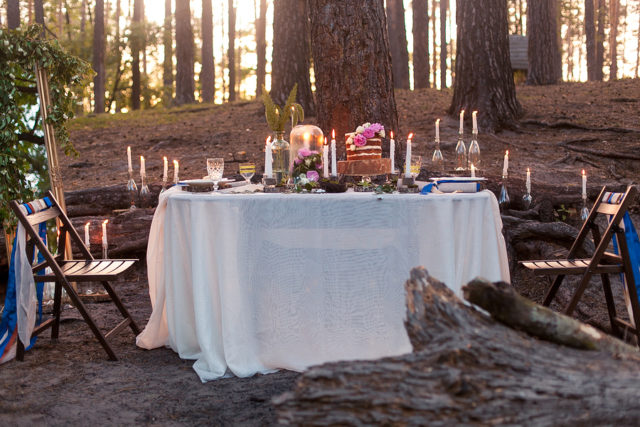 No addition to your décor offers quite as much class and versatility as candles. In today's fast-paced, technology-driven world, candles evoke a sense of peace and warm feelings of yesteryear. Here are some ideas on how to incorporate them into your nuptials.
Sticking with Tradition
There's nothing like the warm, flickering glow of a flame. So if you're a candle-purist, you probably want to seek out decorations that use the traditional wax-and-wick style candles. But first you'll need to find a venue that allows live candles, and there are not that many around. (Here are our tips on how to keep you and your guests safe around an open flame.)
If you do find a place to hold your event, other downsides to flaming candles are their vulnerability to wind and the amount of heat they generate over time. However, careful positioning can mostly eliminate these concerns. But if you do choose to go with traditional candles, you'll definitely need to have a plan for replacing or relighting any that burn out through the night.
It's Electric!
If you prefer to keep things safe, simple and reusable, flameless candles are the right choice. Flameless candles are battery-powered LED devices that have the same look and feel as traditional candles. You've probably seen these as tea lights, but there are many varieties–some with incredibly realistic wicks and just the right amount of flicker!
Depending on your budget, flameless candles are all but indistinguishable from the real thing. And you don't have to worry about them burning out, hurting anyone or dripping wax all over your rented tablecloths.
All About Placement
Whether you choose to decorate with real or flameless candles, their placement will have the most impact on your event. Whatever your theme, there's always a way to work in the soft glow of candles. So take a look at the layout of your venue and consider your theme. Whether it's tea lights lining the entryway, scattered across the buffet table, pillar candles in hurricane vases as centerpieces or candelabras throughout to set the mood of the room, you can't go wrong with candles.
image credit: Bigstock/oksanabondar