Wedding columns are an easy way to add more beauty and elegance to any event. This popular accessory will enhance photographs taken during the festivities and will create atmosphere that is worthy of a major life-changing celebration. There are many styles to choose from, so how do you know which will work best at your celebration?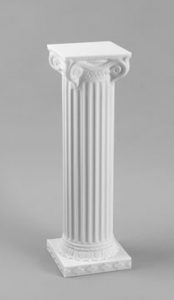 Styles of Wedding Columns
Most wedding column styles are extremely versatile, which means they can be used at any kind of event. Some may blend better with certain types of décor than others. For example, the Empire column is breathtaking and includes gentle grooves and regal display caps. The classic visual appeal of the Empire model is usually better suited to traditional décor styles.
If you prefer modern décor, then the Tuscan or metal columns may be a better choice. The metal version is very sleek yet still retains the elegance that wedding columns are known for. The Tuscan version is smooth which allows it to complement both modern and traditional styles.
Column Finishes
The wedding column finish is also important. Pure white is nice, but some events call for a little more character. When selecting a finish, consider the color scheme of the event and look of the venue. If you plan to go with a warm set of hues, then a warmer finish like sandstone or ivory is a better choice. If you plan to go with cool colors, then blackstone or granite might be better.
Column Accessories
Wedding column accessories are also available and will give you more ways to display your décor. When choosing the right accessories, make sure you consider the space you will have to decorate in. A full colonnade with balustrade might be too big for a small church or hall. On the other hand, a single column may be too little in a large venue. Create a wedding column layout that matches the tone of your event as well as the amount of space you have to celebrate in!