A tropical beach at sunset. A billowy white dress, no shoes. Hair loose, flowers in hand. There's nothing more romantic in the world than a destination wedding. And while it may be your ideal way to say "I do" it can be a bit stressful to plan. But keep the following things in mind and your planning will be stress-free and your big day perfect.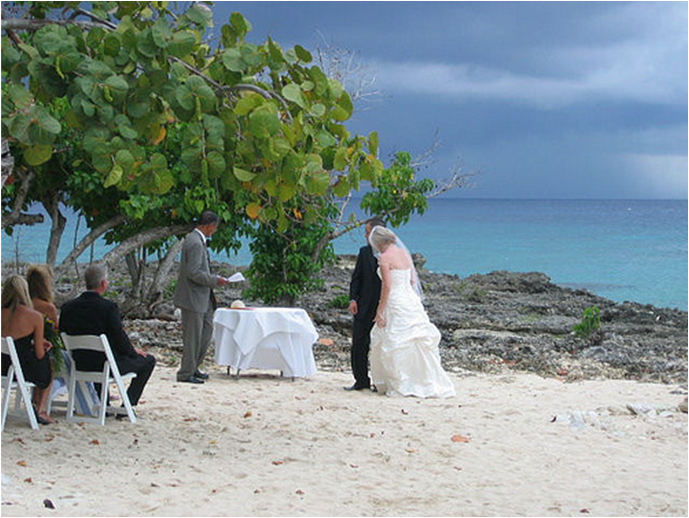 Go Local
When it comes to your reception the best thing is to go local for your decorations. Think local flowers, local foods, local drinks. It will add a colorful and unique flavor to your wedding and could save you some money since you won't have to fly in your decorations. But check out ahead of time what will be available to you to make sure that you will be able to get decorations for the wedding. If you do want to bring your own, stick to light things like colored feathers and tulle.
Local Customs
Are there any local marriage customs that you could include in your wedding? A hand tying ceremony, local music or poetry read in the local language can add an exotic and beautiful touch to your wedding ceremony.
Bottled Water
It always makes sense to stick to bottled water when traveling somewhere exotic, and the same goes for destination weddings. The last thing you want is you or your fiancé getting sick before the ceremony. Same with exotic cuisine. You may want to wait until after the wedding to get adventurous.
Watch the Sunbathing
Make sure that you don't get too much sun before your wedding. You could end up sick with heat stroke or burnt, both which could put a damper on your big day.
Backup Plans
If you plan on getting married outside on the resort lawn or on the beach, make sure that you have a backup plan in case of bad weather. Check with the hotel to see if there is a banquet room you could use if it's rainy or windy on your big day. While there isn't much you can do if a hurricane hits, you can still go forward with your wedding if there are just showers or even a weak tropical storm as long as you have a backup plan.
Help with Travel Plans
When you send out your invitations, include information on the hotel or resort where you will be staying. This can be a huge help to your guests and eliminate a lot of phone calls. Also include information about airlines and plane tickets.
Welcome Your Guests
Once you know everyone's room number, have a welcome basket ready for your guests once they check in. Include such things as a bottle of wine, some chocolate, aromatherapy products and some local goodies. Also include pamphlets on local sites and any events that may be taking place at the hotel or resort. This will help them to relax and enjoy their time.
Have Fun!
Regardless of where you get married, whether it's half way around the world or in your parents' back yard, things can happen. Just go with the flow, relax and enjoy your wedding. Take everything in stride and delegate if you have to. Take a deep breath, look around and remember: to have your perfect wedding day doesn't mean that everything has to be perfect.
Destination weddings can be a fun, romantic way to tie the knot. But like all specialty weddings, they come with their own challenges. But as long as you research where you're going, plan ahead and have fun, your wedding day will be perfect.
Planning or planned a destination wedding? Where did you have your event?