Wedding sparklers are a popular find at events all over the world. They add atmosphere and give guests an interactive way to become part of the celebration. While they are generally safe to use, there are some risks that every bride and groom should know about so they can plan for a safe and successful wedding!
Safety Tip 1: Have a Place to Snuff the Sparklers
Guests will need a safe place to put out their sparklers and discard the smoldering sticks. Make sure you have tin buckets of sand or something similar available that can hold the sparklers without becoming a hazard. You can even decorate your sparkler discard buckets so they blend in with the décor!
Safety Tip 2: Have a Sparkler Person On Hand
The safest way to distribute your wedding sparklers is to have a person or persons assigned to the task. This way you can make sure they sparklers end up in the hands of adults and not young children. These individuals should also carry the lighters so they are not left sitting somewhere that a toddler or child can reach.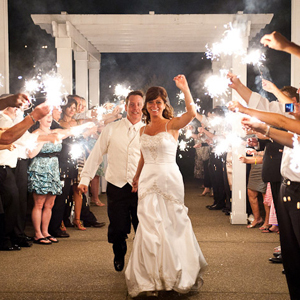 Safety Tip 3: Plan for Outdoor Sparkler Use
Sparklers should be used outside, not inside. This will prevent accidental fires and burns to other guests. Have a designated area reserved just for sparkler time. This should be near the venue (preferably a green space beside it if your event is being held indoors). If your event is being hosted outside, you should still have an open area away from the guest seats to play with sparklers.
Safety Tip 4: Know the Rules before You Light Up
Your venue or the local area may have rules related to the use of sparklers at events like weddings. Make sure you talk to the venue owner, manager or event planner to make sure you know what is and is not permitted. After all, you don't want to wind up with a hefty fine on your wedding day!
Safety Tip 5: Inform Guests of Sparkler Guidelines
Make your guests aware of the sparklers, when you intend to use them and the rules and resources available during that time. Guests should know when and where to light the sparklers and what to do with the used up sticks after. Clear signs are a good way to convey this information. You can also have your DJ make an announcement just in case someone misses the signs.