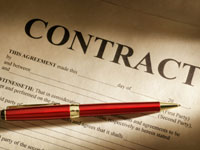 Contracts can be simple or extremely lengthy and detailed.  Do not take for granted that you will be told everything you need to know.  You will want to carefully read what you are signing.
This can be overwhelming.  Sit down with the event planner or subcontractor and have them read it through with you.  They should be able to explain exactly what you are reading at any given point.
Tips on for What to Look for in an Event Planning Contract

Details of Completed Work:  Be sure all information is included, such as: dates, times, party concept, timeline, set-up, implementing service, programs, closing and clean-up.
Changes in Contracts:  Things happen.  You may need to add more flowers, add special registration tables for VIPSs, or add drinks.  Make sure you understand the costs involved in adding to your contract.
Make sure they are Licensed:  Caterers must have food permits and licenses, as well as beverage licenses.  Event specialists or subcontractors that offer lighting or sound systems can have licensed electricians on their payroll.
Make sure they have Insurance:  It is important to know whether the person you are hiring has hired licensed and insured vendors or employees.  This is to protect you.
Deposits and Payment Terms: These will vary with each contract.  Contract should clearly state how much and when deposit is due, as well as remainder of the balance.  Also, make sure it states what forms of payments they will accept.
When Disaster Strikes: This just happens!  Whether minor or major, you should always have an alternate plan.  Make sure the contract specifies its policy on crises.
Making sure all the T's are crossed and I's are dotted is critical to a success event!  You want to be sure you are dealing with qualified and respectable vendors that will ensure you event will run smoothly!