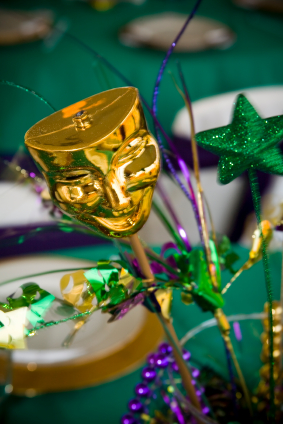 Balloons! Streamers! Masks! Action! It's Mardi Gras time!
Surely no other celebration explodes with more bold zest, not only in New Orleans, but across the Gulf Coast region and even in Rio de Janeiro. For America it started in 1699, when French explorer Iberville camped 60 miles south of the present-day Crescent City. It was March 3, a day he knew was a big holiday back home – a holiday that dated right back to tribal rituals of the Middle Ages celebrating fertility and spring, subdued into a pre-Lenten time of merriment by the Early Church. He named their camp on the west bank of the Mississippi River "Point du Mardi Gras."
By the late 1700s, masked balls were in vogue during Mardi Gras. The first parade took place in 1837. But the holiday had a rough track record, with its violent tendencies causing the press to call for its curtailment in the mid-1800s. The end-of-winter revelry was saved by the Comus organization in 1857, when a secret carnival society was formed to officiate a safe parade with floats, costumes and a tableau ball. The official colors of the holiday – purple (justice), green (faith) and gold (power) – were selected in 1872 by the visiting Grand Duke Alexis Romanoff of Russia.
Delve into the Cajun flavorin' of this period of partyin' by hosting your own fabulous fête. Grace your Mardi Gras tables with purple, green and gold ostrich feather centerpieces showcased by floralytes and sprinkled with diamond confetti. Frame plates with gold chargers topped with cloth napkins, champagne glasses and decorative masks. (Or plan a mask-making station where guests can create their own.) Don't forget the added touches of party poppers, feather boas and adorable Bourbon Street place card holders.
Tempt the palate with appetizers of cheesy shrimp canapes and stuffed jalapeños. Then serve up traditional favorites like crawfish or crab bisque soup or seafood gumbo, followed by a main course of crawfish pie or etouffee, oysters rockefeller, cajun shrimp creole, stuffed trout or jambalaya. Crown it with, of course, King Cake. Many authentic recipes can be found online.
Alongside the decorations and cuisine, Cajun Zydeco music will seal the atmosphere. Some Mardi Gras favorites include "Go to the Mardi Gras," "Second Line," "When the Saints Go Marching In" and "Mardi Gras Mambo."
Entertain guests by a hunt for the baby that was in the King Cake or for coins. Host a pageant complete with various competitions officiated by judges to select a king and queen of the party.