Centerpieces are an important thing for any event or party planner to think about. Whether it's for a birthday bash, a retirement party, a wedding reception or any other memorable event, just about every event calls for a centerpiece of some sort. Feather centerpieces are one of the best kinds to get because they are very beautiful, interesting, and memorable. You can do a number of things to make them complement the rest of your decorations and reflect what a beautiful event you are putting together.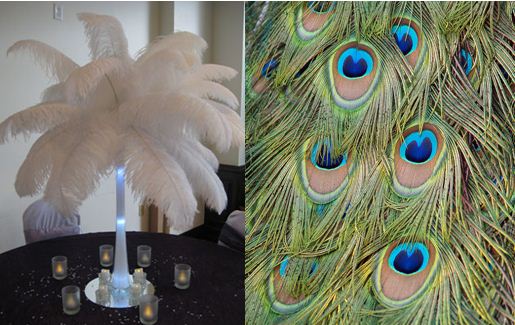 Photos by @Jorg Hempel and Wholesale Event Solutions
Here are some tips for great feather party centerpieces:
One of the most beautiful feathers in the world is the amazing tail feather from the peacock. The ones that have a beautiful dot that looks like an eye are especially gorgeous and make wonderful centerpieces. They are large plumes that can be arranged in all sorts of ways to accentuate the beauty of the feather and really complement the rest of your decorations.
Pay attention to the colors in the feathers that you use. For example, the peacock feather has a number of brilliant, shimmering colors that can act as wonderful highlights to your other decorations. The bright blue could fit in with bright blue balloons of the same color, while the green could be highlighted with streamers stretched across the room and off the ceiling that are the same color of green. When you put it all together, it will all look very well put together and very striking.
You can also buy dyed feathers to highlight and complement your other decorations. For example, think of the types of feathers you might get in a child's toy Native American headdress, or in the tail of an arrow in an archery set. These can be very interesting features and can be found in very muted or bright colors if you wish. This includes colors like hot pink, lime green, gold, purple, red, black, white and so on. Basically any color you can imagine, you can find dyed feathers in that color.
Ostrich feathers are another interesting feather to be used in centerpieces, as are the beautiful feathers of the pheasant. Other birds such as roosters, ducks, and other birds are often used to help complete the arrangement of feather party centerpieces.
Feathers can be ordered online and you can browse through a site's online catalog of many different examples feathers. There can be many types of even the same kinds of feathers – such as the peacock's eye feather or ostrich feathers – so it is good to have a look at exactly what you want. Fake or real feathers can also often be found in craft stores or home décor outlets.
For some examples of how feathers can be used, try this: Make a feather tree. Get a tall vase with built-in lighting and fill it with huge beautiful feathers, like those from an ostrich or peacock, or perhaps tall fake white ones. When lit, the centerpiece will have a very interesting glow to it. Feather trees are very popular feather party centerpieces.