Thursday, February 4th, 2016
Mardi Gras just wouldn't be Mardi Gras without the characteristic masks, beads and exotic colors, but you don't have to stick with the usual. A Mardi Gras theme can go beyond the typical expectations with a few awesome extras. So, just in time for the celebration, we're sharing a few of our best ideas for infusing the spirit of Mardi Gras into your event!
Start with the Food!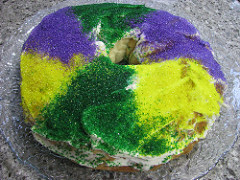 Food is the best part of every party, don't you agree? Mardi Gras is definitely a meal-ready holiday with tons of great eating choices. Pancakes are usually served on Fat Tuesday, but there are lots of options for the rest of the two-week Mardi Gras season. For your get-together, you'll definitely want to consider serving shrimp gumbo, jambalaya or mufflueta. Some of the customary Mardi Gras sides are red beans and rice, meat balls and cole slaw. Of course, you can't forget to finish up with yummy beignets and the traditional King Cake. (more…)