Tuesday, July 25th, 2017
There are tons of checklist resources out there (like this wedding planning checklist from WeddingWire) to help brides with a timeline of booking their venue, photographer, caterer and all other important vendors.
All these timelines are important and incredibly helpful, but they forget to tell you all the things you need to have in order before you can even get started on this checklist. To help out all the future brides just getting started on wedding planning, we put together the checklist before the checklist.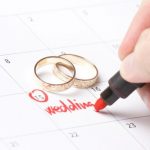 (more…)